Our Easy Pan-Seared Scallops With Lemon Butter recipe is the ultimate meal at home to celebrate that special day or just to enjoy some amazing seafood. Features a creamy lemon butter sauce! This scallops with lemon butter sauce dish is super easy to prepare, requires very few ingredients, and is ready to eat in minutes!
Bay scallops vs Sea scallops
There are 2 types of scallops. The bay scallop has a diameter of roughly 1 inch and the sea scallop has up to 2 inches in diameter. The bay scallops are usually used in soups or stewed seafood.
Sea scallops are a dish you might find when dining in a restaurant. You can expect your scallops to lose 40% of their pre-cooked size. This is due to the high moisture content they possess.
For this recipe, I suggest using sea scallops.
Purchasing Scallops
If you do not have access to a local seafood market that carries fresh scallops, you can opt to use frozen scallops from your grocer's freezer.
You just want to make sure you are purchasing sea scallops vs bay scallops and that you defrost them prior to cooking. I use frozen scallops quite often and am happy with the results.
When it comes to bay scallops vs sea scallops, the biggest difference is size. Bay scallops are normally about half of the size of sea scallops. Bay scallops for fine for soups or stews, but they are half the size of sea scallops. If you were to pan-seared bay scallops, the final product would be extremely small.
Sea scallops are typically 2″ or larger and are what you get in restaurants if you were to order pan-seared scallops.
Main Ingredients Needed
The ingredient list for this recipe is very short. The main focus should be on getting the freshest sea scallops available to you. Frozen scallops will work as well if your local seafood market does not have scallops in stock.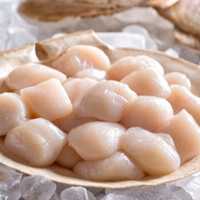 Step-by-Step instructions
Inspect scallops for any debris, rinse, and pat dry. Season with salt and place them on a plate for 15 minutes. Pat dry scallops one more time. It is important to remove excess moisture from the scallops to prevent them from splattering in the hot pan when cooking.
Heat a large skillet or thick nonstick sauté pan or skillet on moderate heat until it becomes quite hot. Avoid using stainless steel unless you are familiar with cooking with it because scallops are likely to stick.
Add olive oil and butter, and thyme to the pan.
Bring scallops into a pan and season with half the salt and pepper.
Cooking scallops takes no time at all. Sear on the first side without touching or turning for 2 minutes, or until golden. Flip scallops and cook for two more minutes. Remove and serve immediately.
The complete recipe is listed below.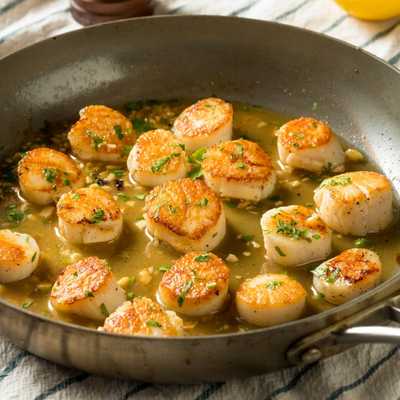 Simple Pan-Seared Scallops With Lemon Butter
Ingredients
1 pound sea scallops
1 tablespoon extra-virgin olive oil
4 tablespoons unsalted butter
1 sprig of fresh thyme
1 tablespoon of lemon juice
Kosher salt
Ground black pepper
Directions
Rinse scallops and place them on a paper-lined plate. Pat dry and salt each side. Let them rest for 15 minutes at room temperature.
Pat dry scallops once again.
Heat medium non-stick skillet or frying pan. Allow to heat for 5 – 8 minutes.
Add thyme, butter, and oil olive to the skillet and let melt. The addition of olive oil allows the butter to reach a higher temperature without smoking or burning.
Add scallops to the skillet. Make sure there is enough room so scallops are not touching.
Allow scallops to cook for 2 minutes on each side. They should be golden brown, but not burnt.
Remove scallops from the skillet and place them on a plate.
Add remaining butter (3 – 4 tablespoons) and lemon juice to the skillet while still over heat. Stir with a wooden spoon until melted. Spoon butter sauce over cooked scallops.
Season with salt and pepper to taste and serve immediately.
Best side dishes to serve with scallops
Since scallops feature a briny or salty taste combined with a sweet flavor, they easily pair with almost any side dish or entree.
For entrees, serving seared scallops with a grilled steak is incredible. Topping any pasta dish with seared scallops is amazing.
For side dishes, I like to serve scallops with cheesy shrimp and grits. Add in a slice of cast iron cornbread for good measure!
Pan-seared scallops with lemon butter sauce and steamed jasmine rice are quite delicious and easy.
Finally, any vegetable (grilled or steamed) is the perfect complement to scallops.
What are the best months for scallops?
While scallops are available year-round, the peak months are during the late fall and throughout the winter. If you are purchasing scallops from your local seafood market, this is the best time to ensure the freshest scallops.
Can I use frozen scallops?
Yes. Frozen scallops work fine with this pan-seared scallops with lemon butter sauce recipe. The key step is to defrost them prior to cooking. You can do this by placing them under running cold water for 10-15 minutes.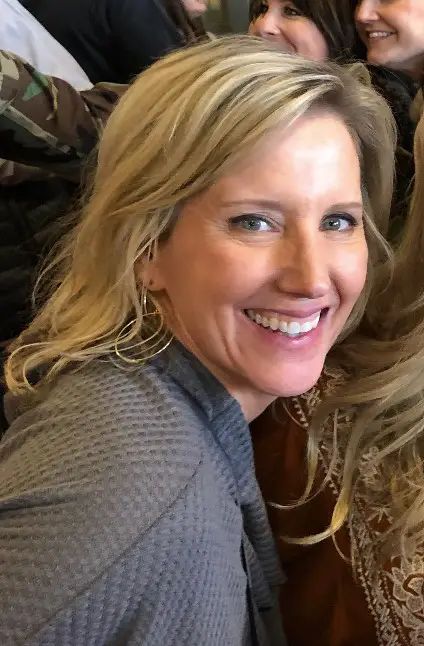 Claudia Faucher is a fitness trainer and lifestyle blogger, who recently started to pursue her other passions… Southern cooking and creating recipes.