The Easy Penne Alfredo Shrimp Recipe is a delicious combination of creamy sauce with seafood and tender pasta. The whole family will love this meal. Each ingredient was chosen wisely to create a flavorful, delicate balance with the right amount of textures and taste.
This Penne Alfredo Shrimp recipe is a go-to dish for weeknights and weekends. I have made slight adjustments to my original recipe to cater to our own tastes, but this is still basically the same Shrimp Alfredo recipe I've been making for years.
Shrimp recipes are the most popular seafood on the Outer Banks of North Carolina. This is in part due to its seasonal abundance, affordability, and convenience, as well as the mild flavor that goes well with pretty much anything. Penne Alfredo with Shrimp is the perfect combination for any occasion!
See my latest article, What Wine Goes With Shrimp Alfredo?
How do you thaw frozen shrimp?
I using frozen shrimp for this recipe! I recommend following the instructions on the back of your shrimp packaging, placing frozen shrimp in a calendar under cold running water for 15 minutes will normally suffice.
Ingredients for Creamy Shrimp Alfredo Pasta
Penne pasta, fresh shrimp, heavy cream, extra virgin olive oil, butter, minced garlic, chicken stock
What can I substitute for cream in Alfredo sauce?
It is best to use milk + flour + butter as a substitute for the heavy cream of Alfredo sauce. Whisk till smooth. When you warm the mixture it thickens as heavy cream.
Main Ingredients Needed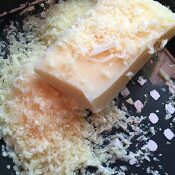 Easy Shrimp Alfredo With Penne Pasta Recipe
Ingredients
8 ounces of uncooked penne pasta
1 pound shrimp, thawed & peeled, and tails removed. I prefer to use Large (31-40 count)
2 tablespoons butter
1/4 cup chicken broth
4 ounces cream cheese,  softened
3/4 cup heavy cream or heavy whipping cream. They are the same thing
4 teaspoons of minced garlic
1 cup freshly grated parmesan cheese
Salt & pepper to taste
Directions
Prepare your shrimp and set aside. If frozen, you will need to defrost and clean them.
Bring a pot of water for your pasta to a boil. Cook pasta until al dente (about 8 minutes), but do not overcook.
Drain pasta and set aside.
Using a separate skillet, bring to medium heat and add in the butter, cream cheese, cream, chicken broth, and minced garlic.
Once the pan has heated up and the butter has melted, use a wooden spoon or rubber spatula to move the cream cheese around the skillet to help it melt faster.
Once the mixture has blended together, let it bubble at low heat for 5 minutes. Keep an eye on it while it cooks to prevent it from boiling over or burning.
Add the grated parmesan to the sauce. Cook for an additional minute or two.
Add the shrimp to the skillet and cook for 5 minutes. The shrimp will cook quickly. Stir on occasion.
Lightly season the Shrimp Alfredo mixture to taste. You can do this to the whole skillet or each guest can season to their own preference.
Blend with the drained pasta and serve.
---
FAQ
Can I use a different type of pasta for this recipe?
Absolutely! While penne is used in this recipe due to its ability to hold the sauce well, you can substitute it with other pasta shapes like fettuccine, linguini, or even spaghetti.
What is the best shrimp for this recipe?
Medium to large shrimp work well for this recipe as they have a nice texture and flavor that pairs well with the Alfredo sauce. If you use frozen shrimp, make sure they are fully thawed before cooking.
Can I make my own Alfredo sauce?
Yes, homemade Alfredo sauce can be made with heavy cream, butter, and Parmesan cheese. It's typically more flavorful than store-bought versions. However, if you're short on time, a good quality store-bought sauce will work fine.
Can I add any vegetables to this dish?
Definitely! Broccoli, bell peppers, peas, or spinach could be a great addition to this dish. They add color, texture, and additional nutrients.
How do I store leftovers?
Leftovers can be stored in an airtight container in the refrigerator for up to 3 days. When reheating, add a little milk or water to help thin out the sauce as it can thicken when cooled.
Can I use a different protein besides shrimp?
Yes. Substitute the shrimp with chicken, sausage, or even mushrooms for a vegetarian version. Just adjust the cooking times accordingly.
Can I make this dish gluten-free?
Yes, you can make this recipe gluten-free by using gluten-free pasta and ensuring your Alfredo sauce is gluten-free.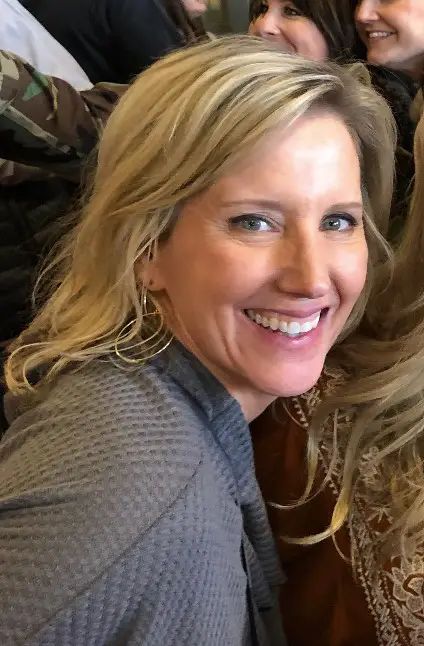 Claudia Faucher is a fitness trainer and lifestyle blogger, who recently started to pursue her other passions… Southern cooking and creating recipes.