This Easy Cheesy Shrimp and Grits Recipe is a quick and easy way to get the deep-south taste you crave. They're great comfort food, perfect for those days when you just want something that's going to make you feel like you're back on the coast somewhere.
And it's not just the taste that makes this dish so special—it's also got a long history. Grits have been around since at least the 1600s when they were first made by Native Americans. Later, they were brought over to Europe during colonization, where they became popular with settlers in the Deep South and surrounding areas.
Shrimp and grits—a Southern classic. Ideal for a Sunday morning brunch with the family or a weeknight dinner for two.
Grits are a staple in Southern cooking and are made from cornmeal that has been ground into a fine powder. They're often served with butter and cheese, but they can be seasoned in many different ways to create unique flavors.
Shrimp and grits are the perfect examples of how you can use your imagination to bring out the best in any ingredient. It's a great way to show guests or loved ones how much you care about them without spending too much time on preparation or presentation!
Main Ingredients Needed
Traditional Shrimp and Grits Recipe
Ingredients
4 cups water
Salt and pepper
1 cup stone-ground grits
2 tablespoons butter
2 cups shredded sharp cheddar cheese
1 pound shrimp, peeled and deveined
5 slices of country bacon, chopped
3 teaspoons lemon juice
2 tablespoons chopped parsley
1 cup thinly sliced scallions
1 large clove of garlic, minced
Directions
Bring water to a rapid boil. Add salt and pepper, and grits. Cook mixture starts to thicken. About 20 minutes.
Remove from heat and stir in cheddar cheese and butter.
Rinse and de-vein shrimp.
Add bacon in a large skillet at medium heat and cook until browned. Remove from skillet and place on a paper towel-lined plate to remove excess grease.
In grease, add shrimp. Cook for 5 minutes or until shrimp turn pink. Add lemon juice, chopped bacon, parsley, scallions, and garlic. Saute for an additional 3 minutes.
Ladle grits into a serving bowl. Top each bowl with shrimp mixture and blend well. Serve promptly.
---
FAQ
What are grits?
Grits are a type of ground cornmeal and a staple in Southern cuisine. They have a creamy texture similar to polenta and are often cooked with butter and cheese for additional flavor.
What type of shrimp is best for this recipe?
Medium to large shrimp work best for shrimp and grits, as they provide a nice texture contrast to the creamy grits. Be sure to peel and devein the shrimp before cooking.
Can I substitute the cheese in this recipe?
Yes. Cheddar is often used in this dish, but other creamy, meltable cheeses like Monterey Jack or Gouda could also work well.
Can I make the grits ahead of time?
Grits can be made in advance, but they tend to thicken as they cool. If you do make them ahead of time, you may need to add more liquid and reheat them gently on the stove before serving.
Can I use instant grits for this recipe?
You can but they won't have quite the same creamy texture or depth of flavor as traditional grits. If you have the time, stone-ground grits are the best choice.
What else can I serve with shrimp and grits?
They can be served with a side of greens, like collard greens, or a simple green salad. A slice of cornbread on the side would also be a nice touch.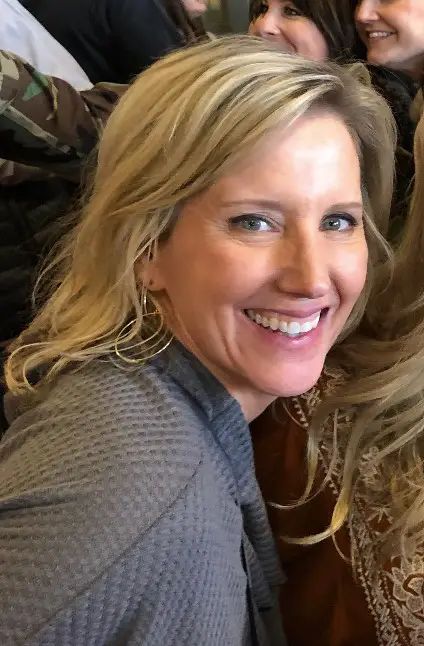 Claudia Faucher is a fitness trainer and lifestyle blogger, who recently started to pursue her other passions… Southern cooking and creating recipes.