The Carolinas are more than just seafood and BBQ beef. The same is true of the Outer Banks. This Easy Carolina Gold Sauce Recipe is a tasty topping for all things pork chops and chicken.
If you love a good thick pork chop from time to time…alright, quite often, this mustard sauce is a great alternative to a traditional North Carolina BBQ sauce recipe option.
This barbecue sauce is easy to make and possesses a delicious balance of flavors to satisfy a wide range of palettes.
Carolina Gold BBQ Sauce is peppery, tangy, and packed with flavor. It'll take anything you slather it on to the next level!
This sauce takes only 10 minutes to make and combines mustard with brown sugar and honey for a golden color. It's no wonder that Carolina Gold Sauce gets rave reviews everywhere it's served!
What is Carolina Gold sauce?
Carolina Mustard BBQ Sauce has a little sweetness from honey, a little tang from apple cider vinegar, and a little heat from red pepper flakes.
This mustard barbecue sauce is deliciously drizzled over pulled pork, pork chops, or drizzled on grilled chicken. For those summer cookouts, this homemade BBQ sauce is a must-have.
Origins of mustard-based bbq sauce?
Gold sauce or mustard-based BBQ was first used in Germany during the 1700s. The Germans loved the taste of mustard and many of them would take it with their meats. It wasn't until much later that it became a popular sauce for barbecue in North America. 
Is Gold BBQ sauce from South Carolina?
Yes. This Carolina gold sauce is a mustard-based barbecue sauce that originated in South Carolina. While South Carolina has several regional barbecue sauces, this is one of the most popular sauces.
This gold sauce is also very popular throughout North Carolina and in the deeper southern states.
What are some of the benefits of mustard-based barbecue sauce?
Mustard-based BBQ sauce is a mixture of vinegar, brown sugar, mustard, and spices.
It is best to use this grilling sauce with pork or chicken.
This sauce is often used throughout the South and has a more tangy taste than traditional tomato-based barbecue sauce options.
Is Carolina Gold BBQ sweet?
Even though there is sugar and honey to cut the acidity of the mustard and vinegar, it isn't what many would consider a super sweet sauce recipe like the thick red stuff from a bottle. It is a tangy sweet sauce, with a kick from the red pepper.
If you don't like spice, feel free to leave out the cayenne if you don't like it.
Main Ingredients Needed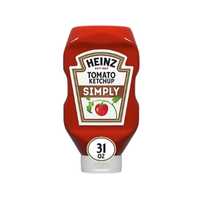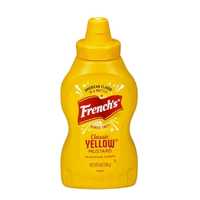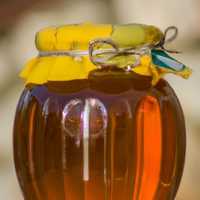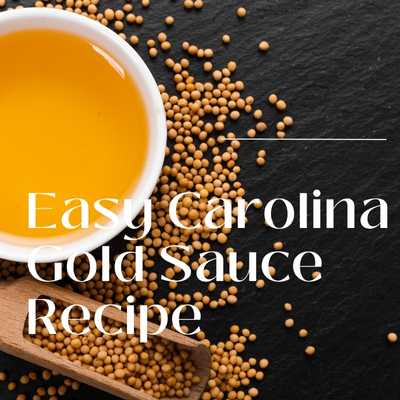 Carolina Gold BBQ Sauce
Ingredients
¾ cup yellow mustard
½ cup honey
½ cup apple cider vinegar
¼ cup brown sugar
2 tablespoons ketchup
2 teaspoons Worcestershire sauce
1 ¼ teaspoon garlic powder
½ teaspoon salt and black pepper
½ teaspoon red pepper flakes
Directions
Over medium heat, place all ingredients in a medium saucepan and bring to a boil.
Reduce heat to simmer or lowest setting and let cook for 10 additional minutes.
Let cool and serve.
FAQ
What is Carolina Gold Sauce?
Carolina Gold Sauce is a mustard-based barbecue sauce that originates from South Carolina. It's known for its tangy, sweet, and slightly spicy flavor profile, which is a delightful alternative to tomato-based sauces.
What dishes can I use this sauce with?
This sauce is traditionally used with pulled pork, but it can also be used as a condiment or marinade for chicken, beef, or even vegetables. Its unique flavor can enhance a variety of grilled or smoked foods.
Can I store leftover sauce?
Absolutely! Store any leftover sauce in an airtight container in the refrigerator. It will typically last for up to a month, allowing you to enjoy it in multiple meals.
Is there a substitute for the mustard in this recipe?
The mustard is a key ingredient in Carolina Gold Sauce, providing its distinctive tang. However, if you must replace it, yellow mustard could be substituted with Dijon mustard or even honey mustard, though this will slightly alter the taste.
Can I adjust the sweetness or spiciness of the sauce?
Yes, the recipe is quite flexible. To make it sweeter, add more honey or brown sugar. To make it spicier, add more cayenne pepper or consider adding hot sauce.
What's the best way to apply this sauce when grilling?
It's best to apply Carolina Gold Sauce during the last few minutes of grilling, or even after the meat has been removed from the heat. This prevents the sauce from burning, while still allowing the flavors to meld.
Can I make this sauce vegan?
Yes, this sauce can be made vegan by using a vegan-friendly Worcestershire sauce or omitting it altogether. Also, ensure that your mustard and other ingredients are vegan.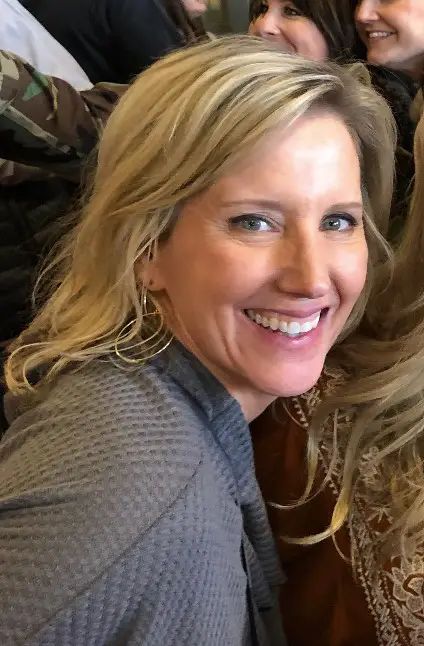 Claudia Faucher is a fitness trainer and lifestyle blogger, who recently started to pursue her other passions… Southern cooking and creating recipes.