There's no shortage of things to do in the Outer Banks, North Carolina. With their abundance of wildlife and nature, you'll never run out of places to explore. Fishing is a popular pastime for many residents and tourists alike. The area has numerous fishing piers open to the public where you can experience the excitement of catching trophy fish. To help you get started, here are the 7 best fishing piers of Outer Banks, NC.
About
Anglers in OBX get to experience two of the greatest things in fishing. Shallow waters are filled with inshore prey, and warm ocean currents and large game fish are nearby. In short, you're surrounded by every game fish's hunting grounds.
However, there is another great place to experience this unique fishing mecca, and that is pier fishing. Pier fishing is a hybrid fishing style that combines easy access to shore fishing with over-water access to boat fishing.
There are many advantages that make this kind of fishing very popular.
Low financial commitment
Easy access to great fishing spots
Convenience
Some of the Best Fishing Piers of the Outer Banks
Structure attracts many species of fish, which is why anglers often hang around bridge piers. Even without a boat, you can access some of the most incredible fishing on the Outer Banks just by fishing off one of the many piers open to the public.
Avalon Pier
If you're looking for a long, enjoyable day (or night!) of fishing, Avalon Fishing Pier has everything you need. The 700-foot pier stretches out to the Atlantic Ocean over 12 to 15 feet of water, making it the perfect place for fishing.
There are plenty of parking spots near the pier at milepost 6 on the beach road. Packages cost $10 for adults and $5 for children under 12 years old to fish the pier.
You can get a stamp for an entire day of fishing, as well as three-day and week-long passes, season passes, and daily passes. Cleaning sinks are conveniently located near the pier. You may bring up to three rods per person.
The pier offers bait and tackle sales and rentals, as well as a snack bar and tackle shop. You can purchase bloodworms, squid, mullet, shrimp, and artificial lures at the shop. You can get a decent price on a beer at the snack bar.
Whether you're after blues, croakers, flounders, trout, mullets, pompano, and Spanish mackerel, you can catch them all! You'll have the best luck fishing usually an hour before sunset, early in the morning, or in the middle of the night.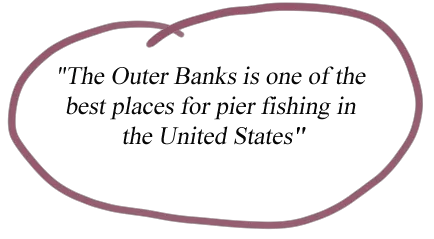 Nags Head Pier
Because the Nags Head Pier is close to the Gulf Stream, so you get a wonderful variety of inshore fish to catch. You'll find our tackle shop stocked with rods, reels, bait, tackle, and possibly even fishing tips.
Besides offering a great fish location, the Nags Head Pier tackle shop offers everything you need, so you don't have to worry about bringing everything with you. From fresh bait, bottom rigs, top water lures, rods, reels, and expert advice.
This tackle shop also offers a fine selection of rod and reel rentals. This is perfect for visitors that just want to enjoy a few days of fishing, without the expense of buying fishing tackle.
Kitty Hawk Pier
This Kitty Hawk Fishing Pier is another location offering a large fishing area and access to great fishing. In 2006, Kitty Hawk's new Hilton Garden Inn bought the pier. It was reopened in 2008 after being remodeled. The Pier House now serves as a unique venue for weddings and other events, enhanced by the surroundings and history of the Outer Banks.
Kitty Hawk Pier is only open to guests of the Hilton Garden Inn Kitty Hawk.
Jennette's Pier
Jennette's Pier is situated at Milepost 16.5 in Nags Head. The pier is open 364 days a year, and its hours vary depending on the season.
For fishing access fee is $12 for adults and $6 for children. In addition to catching the fish, you can also see NC Aquarium exhibits and educational displays at Jennette's Pier.
The facility has parking and a bathhouse with showers. There are also a variety of cool programs where you can participate. If you want to catch a unique fishing experience, you must go to Jennette's Pier!
Outer Banks Fishing Pier
The Outer Banks Fishing Pier is located at Milepost 18.5 in South Nags Head, and it is open 24 hours a day. This has been a top fishing pier on the Outer Banks for more than 50 years.
While you do not need a fishing license to fish on the Outer Banks Fishing Pier, you will be required to pay to fish from the pier. There are daily and seasonal fishing rates available.
Avon Fishing Pier
The Avon Fishing Pier opened its doors in 1963 and was the final pier to be built on Hatteras Island. The Avon Fishing Pier is world-renowned for its many record fish catches, especially for the giant Red Drum.
Like many of the fishing piers on the Outer Banks, there is an access fee if you wish to fish there. There are a variety of packages available for purchasing access passes, such as daily, 3-day, and seasonal.
Rodanthe Pier Place
The Rodanthe Pier Place is located further down on the Outer Banks. If you are looking for a fishing pier away from the crowds, this is a great place to start.
This fishing pier features all the accessories and merchandise to make your fishing experiment a pleasant one. You will need to purchase a pass to fish from this structure.
Final Words
Fishing has been a staple of the Outer Banks for centuries. These waters are abundant with species, making them perfect for fishing. Whether you're a seasoned angler who makes the pilgrimage to the OBX on the regular, or just start out with your fishing journey, the Outer Banks has something, and plenty of fish, for everyone!
---
FAQ
What are some of the species of fish I can expect to catch at these piers?
The Outer Banks is known for its diverse marine life. Depending on the season, you can expect to catch species such as flounder, mackerel, bluefish, drum, and even larger game like sharks and tarpons.
Do I need a fishing license to fish off the piers in Outer Banks, NC?
While North Carolina generally requires a fishing license, many piers in the Outer Banks include the license with their own fee. However, it's always a good idea to confirm with each pier.
Are these piers accessible year-round?
The accessibility to these piers varies throughout the year, often dependent on weather conditions. While some piers are open year-round, others might close during the winter months.
What amenities are available at these fishing piers?
Most fishing piers offer amenities such as bait and tackle shops, restrooms, and sometimes even restaurants. Each pier is different, so check ahead for specific amenities.
Can I rent fishing equipment at the piers?
Most of the piers offer rental equipment, making it easy for tourists and casual fishermen who may not have their own gear. It's recommended to contact the specific pier for availability and pricing.
Are these piers suitable for beginners?
Absolutely! The Outer Banks piers are great for anglers of all skill levels. Staff and fellow fishermen are often willing to share advice and tips, making it a welcoming environment for beginners.
Do these piers offer anything for non-fishers?
Yes. These piers provide stunning panoramic views, local eateries, and gift shops. Some piers may also host events and activities, offering fun for the whole family.
Photo credits – Featured image by Gene Gallin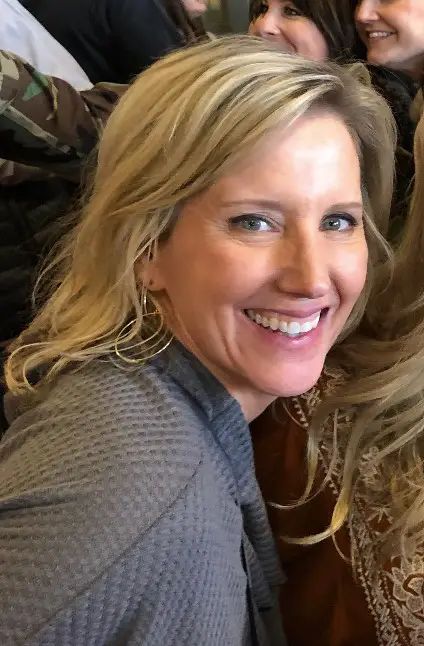 Claudia Faucher is a fitness trainer and lifestyle blogger, who recently started to pursue her other passions… Southern cooking and creating recipes.