The Best Cold Shrimp Salad Recipe. The classic shrimp salad recipe is a North Carolina favorite that is the perfect appetizer or meal. Quick and easy to make, it mixes the sweetness of shrimp with buttery mayonnaise and crunchy celery to create a tasty treat.
This shrimp salad is made with parsley, red onion, and celery tossed with a bit of mayo. It is one of my favorite cold dishes with a light spiciness. Eat a cold seafood salad with a spoonful of salad or with some greens. Lemon zest adds an extra pizzaz and tang.
What kind of shrimp to use?
If you don't have access to fresh shrimp from a local seafood market, shrimp is available at supermarkets in different forms. I use raw and cook with tails off.
I find frozen shrimp used in recipes to be quite good. Using raw shrimp takes minutes to prepare. The black vein running down the back of shrimp is the stomach intestine artery and should be removed prior to cooking.
How to make shrimp salad?
When making shrimp salad, cook shrimp and let it cool until it peels off. That's the whole thing. Then you can use some mayo for the shrimp salad. Serve this simple salad with lettuce to create a delicious low-carb and keto alternative!
Serve this cold shrimp salad recipe with the addition of rotini pasta for a richer shrimp sauce. For the most delicious shrimp salad, sandwiches use croissants cut through horizontally.
Shrimp Salad Dressing
This shrimp dressing requires Old Bay seasoning, lemon juice, fresh parsley, and mayonnaise. These flavors combine to create a delicious dish for your family.
Old Bay is a spicy blend that everybody needs. It has numerous aromatic and spice compounds and is the most essential seafood flavoring which compliments all seafood chowders and seafood dishes.
How long should salad sit?
Once your shrimp salad has been prepared, place it in the refrigerator for at least 1 hour before serving. The salad can last three days, stored in the refrigerator but tastes best when eaten within 24-48 hours for optimal flavor.
Main Ingredients Needed
Simple Shrimp Salad Recipe
Ingredients
1 pound cooked large shrimp, peeled, deveined, and sliced or left whole
½ cup mayonnaise
½ cup celery, thinly sliced
2 tablespoons red onion, finely diced
2 tablespoons fresh parsley, chopped
2 teaspoons Old Bay Seasoning
2 teaspoons lemon juice
¼ teaspoon Worcestershire sauce
Lettuce, mixed salad greens, or saltine crackers
Directions
Mix all ingredients and chill for 1 to 3 hours.
Serve on your choice of lettuce or on top of mixed salad greens with a wedge of lemon. Also great when eaten with crackers.
---
FAQ
What kind of shrimp should I use for this salad?
Small to medium-sized shrimp work well as they can be evenly distributed throughout the salad. If you use larger shrimp, consider cutting them into bite-sized pieces.
Can I use frozen shrimp for this recipe?
Yes. Just make sure to thaw them properly before adding them to the salad. You can do this by placing them in the fridge overnight or running them under cold water.
What other vegetables can I add to the shrimp salad?
Apart from the usual ingredients like celery and onions, you can add bell peppers, cucumbers, radishes, or even some chopped tomatoes. Just be sure to choose vegetables that will remain crisp when chilled.
Can I make this salad in advance?
Yes. In fact, allowing it to sit in the refrigerator for a few hours before serving can enhance the flavors as they meld together. Just be sure to store it in a covered container.
How long can I store this shrimp salad in the fridge?
This salad is best eaten within two days of preparation. Keep in mind that shrimp is highly perishable, so it's essential to keep it refrigerated and consume it in a timely manner.
Can I substitute the mayonnaise in the dressing?
Yes, if you prefer a lighter version of this salad, you can substitute the mayonnaise with Greek yogurt or a vinaigrette-style dressing.
What can I serve with this cold shrimp salad?
This salad can be served on its own, with a crusty baguette, or as a filling in a sandwich or wrap. It also pairs well with other picnic or potluck staples like pasta salad or fresh fruit.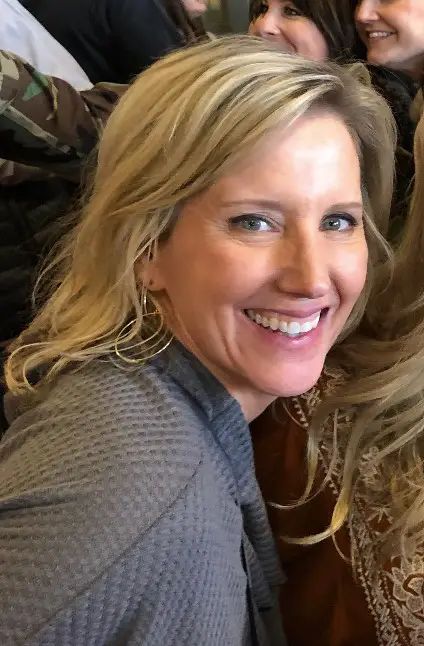 Claudia Faucher is a fitness trainer and lifestyle blogger, who recently started to pursue her other passions… Southern cooking and creating recipes.