This Carolina Grilled Peach Salad recipe captures the true essence of summer with its sweet grilled peaches, tangy buttermilk blue cheese, crunchy toasted pecans, and vibrant roasted red pepper vinaigrette. Every bite brings together a delightful mix of flavors and textures that will make your taste buds dance. This simple yet sophisticated salad is a great way to enjoy the season's bounty and elevate your summer meals. So, let's dive in and learn how to whip up this sunny dish!
Carolina Grilled Peach Salad
Ingredients
For the Salad:
4 South Carolina peaches, halved and pitted
1 tablespoon olive oil
1/4 cup buttermilk blue cheese, crumbled
1/2 small red onion, thinly sliced
1/2 cup pecans
Mixed greens
For the Roasted Red Pepper Vinaigrette:
1 large red bell pepper
1/4 cup apple cider vinegar
1/2 cup olive oil
1 clove garlic, minced
Salt and pepper to taste
Directions
Grill the Peaches:
Preheat your grill to medium heat. Brush the peach halves with olive oil.
Place the peach halves cut side down on the grill. Grill for 4-5 minutes until the peaches are tender and have grill marks. Allow to cool and slice.
Toast the Pecans:
Preheat your oven to 350 degrees F.
Spread the pecans in a single layer on a baking sheet. Toast in the oven for 5-7 minutes until golden and fragrant. Allow to cool and chop roughly.
Roasted Red Pepper Vinaigrette:
Preheat your oven's broiler. Place the red pepper on a baking sheet, and broil, turning occasionally, until the skin is blackened and blistered.
Allow the pepper to cool, then peel off the skin and remove the seeds.
In a blender or food processor, combine the roasted red pepper, vinegar, olive oil, and garlic. Blend until smooth, then season with salt and pepper to taste.
Assemble the Salad
On a large platter, spread out the mixed greens.
Arrange the grilled peach slices, crumbled blue cheese, sliced red onion, and toasted pecans over the greens.
Drizzle the salad with the roasted red pepper vinaigrette just before serving.
---
FAQ
Can I use a different type of cheese instead of buttermilk blue cheese?
Yes. Goat cheese or feta could work well in this salad due to their tangy flavor and creamy texture, nicely balancing the sweet peaches and roasted pepper vinaigrette.
Can I use another type of nut instead of pecans?
Absolutely! Walnuts or slivered almonds would also work well in this recipe. Remember to toast them to bring out their flavor and add a nice crunch to the salad.
What if I don't have a grill to cook the peaches?
If you don't have a grill, you can also cook the peaches on a stovetop grill pan or even roast them in the oven until they're softened and caramelized.
Can I use canned peaches if fresh peaches aren't available?
While fresh peaches are best for this recipe, you can use canned peaches as a last resort. Make sure to drain and dry them well before using.
What other dressings can I use for this salad?
If you don't want to make the roasted red pepper vinaigrette, a simple balsamic vinaigrette or a honey mustard dressing could also pair well with this salad.
Can this salad be made in advance?
You can prepare the elements of this salad in advance, but it's best to assemble them just before serving to keep the ingredients fresh and the greens crisp. The vinaigrette can be refrigerated for up to a week.
Is there a substitute for the red onion?
If you find red onion too strong, you can use thinly sliced shallots or green onions as a milder substitute. Alternatively, you could soak the sliced red onions in water for a few minutes to reduce their bite.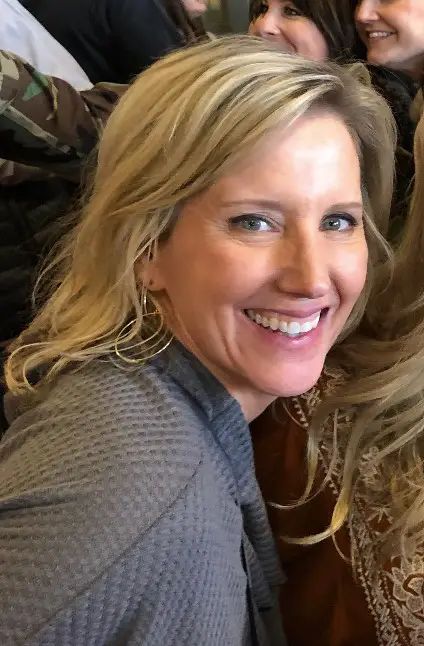 Claudia Faucher is a fitness trainer and lifestyle blogger, who recently started to pursue her other passions… Southern cooking and creating recipes.